PLEASE BE ADVISED THIS WIKI IS CURRENTLY UNDER GOING MAJOR REWORKS AND MIGHT MAKE NO SENSE UNTIL COMPLETION PLEASE USE AN ALTERNATIVE RESOURCE OR HELP IN THE COMMENTS THANK YOU
.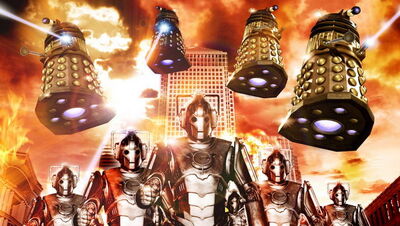 During the Battle of Canary Wharf the Daleks and the Cybermen finally got a chance to face off in an epicly awesome session finale. The Cybermen disguising themselves as Ghosts.Invaded earth from another dimension with the unintentional aid of The Torchwood Institute and quickly started to take over with hundreds in every country and city but unknown to the Cybermen and the Doctor something else also came through the void a "sphere" with no weight and no mass Rose being left to basically figure out what was going on found the room that sphere was being kept witch due to the protection of earth and the break down of the dimensional barriers also was our old friend Mickey in at just around the time that it opened and inside? What else Daleks and not just any Daleks the Daleks known as the Cult of Skaro who had names and were able to think originally to aid the destruction of the Daleks enemies (everyone) there names were Dalek Sec, Dalek Caan, Dalek Thay and Dalek Jast they had a stolen object (Time Lord Technology) that they called the Genesis Ark but they could not open because although they probably were covered the time travel residue needed to power it they could not fiscally touch it but Rose had time traveled and she could open it. Unfortunately the Daleks found this out by way of "extracting" info from Dr Rajesh Singh killing him. Rose wouldn't open the Ark because, well it is a generally bad thing to give a Dalek More power any day.
Of course this is the part where the two arguably greatest enemies of the Doctor get to meet and obviously it was going to have to be fantastic and they met one on one in a hall outside the "sphere" room. but the two had never met before and so they argued back and forth over which of them would identify first but Dalek Thay accidentally let it slip that they were Daleks. the Cybermen offered the Daleks the idea of an alliance but of course the Daleks declined the Cybermen's offer and basically said that they would eliminate the Cybermen even if there had only been one dalek.
Still it must be remembered that there were millions of Cybermen and once the fight started more Cybermen came to the aid of those in Torchwood and the staff of torchwood had already started to be converted to cyber form but all this was insignificant to the Daleks
Here is a video of the Battle of Canary Worf from the DW session2 finale of these 2 great enemies of the Doctor:.http://www.youtube.com/watch?v=MA6HFSFCfsE&feature=related